Last night I embarked upon a journey to fix some red beans and rice for our Memorial Day hike. I have to give thanks to Babelfish5 over at hammockforums.net for the recipe. I'll lay out the ingredients for you and then guide you through the process. I'm confident that by the time you reach the end you'll be salivating and ready to fire up the burner.
Ingredients
1 lb polska kielbasa
1 lb red beans
1 can diced tomatoes
1 lg onion chopped
1 green bell pepper chopped
3 stalks celery chopped
4 cloves garlic
2 bay leaves
1/2 tspn cayenne pepper
1/4 tspn sage
1 tspn dry parsley
1 tbsp cajun seasoning
1 tspn thyme
4 cups beef broth
2 cups water
3 cups instant rice
Note: Use kielbasa instead of andouille sausage since the latter has a higher fat content making it less suitable for dehydrating.
Soak beans overnight with water covering completely. Drain thoroughly right before you begin to cook. Cut the kielbasa into halved slices. Put olive oil in pan and stir together onion, green pepper, and celery. Cook for about 5 min on medium.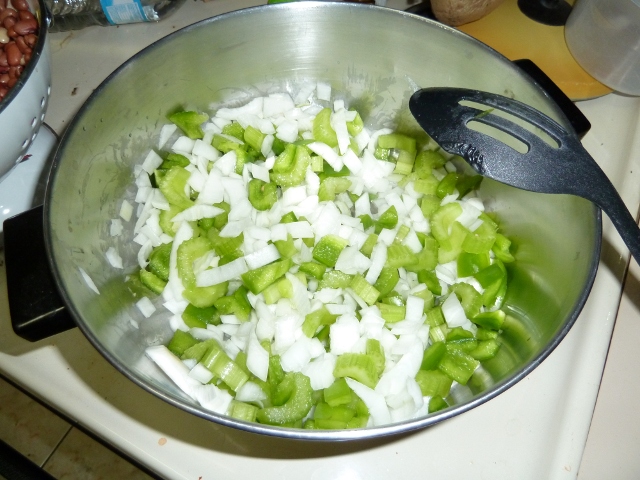 Add broth and water, red beans, tomatoes, garlic, spices, bay leaves and stir. Bring to boil and cover for 90 min on medium.
Add kielbasa and let cook uncovered for an additional 30 min on medium.
Remove bay leaves and 20% of the beans. Use blender to turn beans into a thick paste. Put paste back into pot and stir in. Cook for additional 15 min.
Part dish into desired serving sizes and place on dehydrator tray. Put serving size into ziploc bag and add 1/4 cup of instant rice. Seal and be happy.