Hot Springs really is a town that deserves its own page in my ramblings. Sitting on the park bench outside Bluff Mountain Outfitters I took in the sights of the quaint town. Shouldering my pack and collecting my wares I followed the AT down Bridge St. Hot Springs is one of those rare places where the AT goes right through the center of town. Attractive markers within the sidewalk lead the hiker along its path.
Boasting a population of just over 600 residents it is easy to walk from one end of town to the other in just a few minutes. Walking into town from the north you cross the French Broad River and hop the railroad tracks. You walk beside the famed springs end enter the town proper. On the corner is the Hot Springs PD next to an art shop and the Iron Horse Station Inn and Restaurant. If you find yourself craving ice cream, sandwiches, or other mouthwatering dishes you can stop at Sweet Imaginations. The laundromat is right across the street so you can enjoy your ice cream while waiting on your clothes.
There are several hostels located in town and they all offer hiker discounts. You can also find a spot at the campground if you're looking to save a few dollars. Concentrated within a small area is the local post office, hardware store, general market, Dollar General, and several taverns/restaurants. The draft beer at the Spring Creek Tavern will delight the taste buds while providing an excellent location for catching a cool breeze as you watch the water rushing by. You may even try your hand at some fishing for a nominal fee to obtain a NC permit. All three main meals can be adequately covered at the Smokey Mountain Diner. I would suggest that you come prepared to wait and pace yourself. The food takes a while to arrive but it's plentiful and worth the wait.
The folks at BMO were very helpful and I stayed until they closed. They called ahead to Elmers Sunnybank Inn to see if they had a vacancy (they didn't) which saved me a trip to the end of town. I grabbed some extra groceries and a pint of Ben & Jerry's Cookie Dough ice cream before heading down the road. I finally arrived at the Alpine Court Motel and checked in. Remember to take cash because neither the Alpine Court nor Elmer take plastic. The key is left in the door and as you step over the threshold you find yourself whisked away to the 1960s. You'll need your cell phone if you want to reach out and touch someone because the rooms don't have phones. They do, however, have a small color TV and DirecTV. I guess it's the 60s with a twist.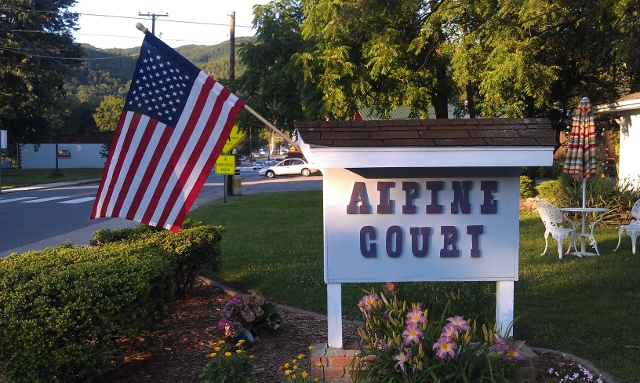 I excitedly dropped my pack on the floor and dove into the Ben & Jerry's. I'm fundamentally opposed to this uber-liberal company and this was the first time I'd ever spent money on their goods. While I would have gladly accepted a substitute at the time I wasn't aware of others or in any shape to go scouting. I took the easy road and it tasted good. Hopping into the vintage shower I emerged feeling like a new man. After downing a few more bites of B&J I headed down the street to the Diner where I dove into the Hungry Hiker burger and gallons of sweet tea.
As I sat in the motel room that evening watching the Discovery Channel and enjoying being clean  and funk free I made an important decision. My calves were hurting along with my knee. My pack (which I thought I'd adjusted properly) had left bright red marks like a reverse hiker's sunburn on my chest and shoulders. I hate to admit it but the first couple of days on the trail had kicked my cubicle butt. I'd stay in Hot Springs and recover.
Zero
I awoke Wednesday morning after a mostly good night's rest. Unfortunately I'm too tall for the short beds at the Alpine Court so I had to sleep at an angle. Fortunately I'm used to that in the hammock. 🙂 My calves were really tight and I found myself waddling around. I got dressed and headed down to the diner since I was starving. I ran into Tumbleweed again as he was finishing up breakfast. His wife and friends were coming to town to drop off his truck and then take him to Davenport Gap so he'd hike back northbound.
The diner didn't disappoint as I helped myself to a massive skillet breakfast along with some eggs, toast, and coffee. It's really easy to get used to this. It's a little better than eating oatmeal out of the package.
While I was eating I was surprised to see some familiar faces walk in. While I'd never met them before I knew their faces from the Florida Trail Association magazine. It was Chuck Norris and Tigger, the FTA long distance gurus. It turns out they're running the Hot Springs Hostel for the 2012 season. I wish I'd known about that before I stopped at the motel. Oh well.
I tried to make the most of my zero day. I carried by pack back down to Bluff Mountain and got it readjusted by Wayne. I had decided on a new plan for the remainder of the week and went to the post office to ship stuff home. I did laundry and dried my clothes out. I seldom take camp shoes but I was grateful to have my flip-flops with me since it allowed me to leave my hiking shoes drying in the sun at the motel.
After doing laundry I headed over to the Spring Creek Tavern for a yummy lunch. I'd seen Blaise and the gang roll into town while I was finishing the laundry and met up with them at the tavern. When they finished their meal they headed home. I headed out and explored the town. I ended up picking up a nice AT poster from one of the shops. Back to the post office! I tried visiting the library but contrary to its closing time of 6pm it was closed at 2. The visitor's center was closed also. So I went back to the room and watched a little TV before heading out for dinner.
I ended up back at the diner for dinner and got a massive, double-stuffed pepperoni pizza. I couldn't eat the whole thing so I saved some slices in foil for lunch on the trail. Of course they must not have had refrigerators in the 60s so there was no place to keep it fresh in the room. I ended up propping the foil up against the AC vents with a chair. I'm not dead so I guess no botulism or anything set in and the cheese was ok. I ended my stay in Hot Springs with a final breakfast of pancakes and eggs at the diner before heading back to Bluff Mountain for a shuttle to Max Patch. That was one point of interest I wasn't going to miss.