Unfortunately I couldn't make the re-cert course so my USFS sawyer certification has expired which means I can't clear the blowdowns in the forest. 🙁 However, knowing they're there and having a friend with a tree that needs to come down inspired me to pull out my Echo CS-400 saw this weekend. Sometimes I wish I had a 20″ bar but so far the 18″ has been sufficient.
I wish I could remember where I picked up the 1-gal gas can I have but I haven't found it at Wal-Mart, Home Depot, or Lowe's. It's nice because the spill-proof nozzle is finger-operated instead of having to pull down on the nozzle to release the fuel. Of course what I really want for the saw is a mini piggy which carries both fuel and chain oil. I grabbed the old can and added some fuel, Stabil, and 2-cycle oil. Then I filled up the chain oil.
After adjusting the chain tension and checking the air filter I fired her up and she purred like a kitten. It only took two pulls (one with the choke and one without) to get her started. I was feeling a little lazy and didn't really want to bend over to cut a log so I grabbed a small one and locked it down in my Jawhorse. She sliced through like warm butter. In just a few minutes I was covered in sawdust. It's a great feeling. 🙂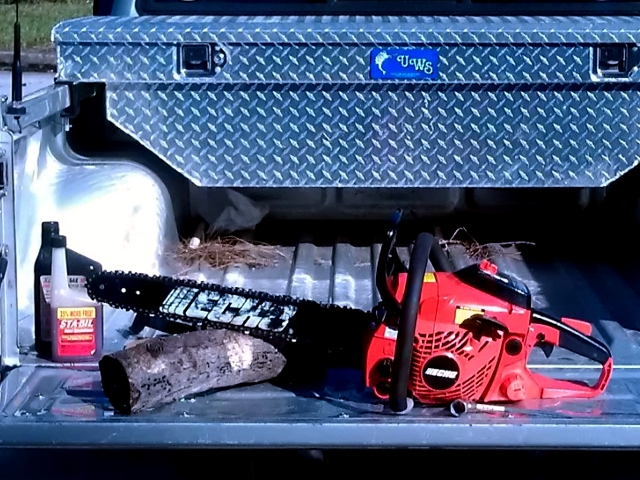 Sorry, I didn't realize I had the white balance set to fluorescent so it's blue. 🙁
I'm hoping the USFS will let me slide on my cert so I can get back in the woods to clear the trees that are blocking the trail and driving me nuts. Keepin' my fingers crossed!