Since adding the Jacks R Better Bear Mountain Bridge Ultralight hammock to my gear closet I've been in need of a new tarp. I absolutely love my OES MacCat Deluxe tarp but it has two downfalls with the bridge style hammock. First it's just a little short. I haven't been in the elements with the combination but I don't think I want to try it. There's very little coverage extending beyond the end of the hammock. Second, the spreader bars push against the tarp unless you pitch it high. I have acquired some tarp pullouts to help alleviate the second problem but that still leaves me with the possibility of getting wet.
Over July 4th the Jacks had another sale and I took advantage of it. Yesterday my new 11 x 10 cat tarp arrived. The 11 foot sides have dual catenary cut edges to trim weight and allow for a taut pitch. The pitching options are almost endless with a total of 21 tie-outs. Of course the first thing I did was drop it on the scale and it weighed in at 19.1 oz. That's only 1/10th of an ounce above the advertised weight so I'll chalk it up to the scale. 🙂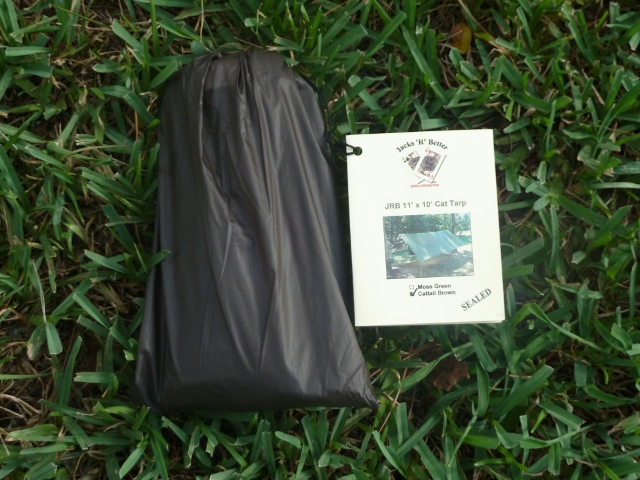 I have to say I don't see any way I'll run the risk of getting wet under this thing. One perk with the sale is that the price included seam sealing which is normally an additional charge. I quickly setup the continuous ridgeline (CRL) from my MacCat and pitched the tarp in a regular A frame style.
One thing I realized I need to get busy with is making new tie-outs. I also need to take some additional stakes since I'll use at least a minimum of two more. Depending on the way I pitch it I may need more than that. I can only imagine this thing will be interesting to setup on a windy day!
I think this is going to be the perfect match to the BMBH UL. Stay tuned for a full-blow review!