Since I had some time to kill sitting around the house while TS Beryl dumped a bunch of rain on us when I should've been hiking I decided to be productive with my time. I thought this would be a good time to make some minor adjustments to my gear before hitting the AT so I tackled some tarp changes.
I had ordered 180′ of 1.75mm Lash It! from Redden Marine during the week and was playing around with making some continuous loops, soft shackles, etc. My continuous ridgline (CRL) for the tarp consists of 30′ or 35′ (I need to measure again) of Dynaglide. I'm really not a fan of it but it's what I have at the moment. In addition, Jacks R Better was having a Trail Days sale and I decided to order some Dutchware along with my new hammock.
The first thing I did was cut the Nite Ize knotbone off the fixed end and replaced it with a Tarp Flyz. On the other end I replaced the braided mason prussik and small Figure 9 with a Lash It continuous loop in a Klemmheist knot and a Dutch hook.
I really like Lash It since it's basically the Amsteel Blue that I'm used to working with for whoopieslings and other odds and ends. I'll probably end up ordering a spool of 2.2mm to replace the Dynaglide. I'm anticipating a 50% weight reduction based on the manufacturer's specs. As it is I only dropped .3 oz going from 1.1 to .9 oz.
I have to apologize that I don't have any images. It seems that I deleted them when I formatted the memory card in preparation for my trip. I'll have to re-shoot.
Next up was making some self-tensioning tarp lines. Like many of you I sometimes struggle with the tarp tension changing throughout the night. I had some 3/32″ shock cord from a previous project and decided to add some to my tarp lines to try and prevent sagging problems on the trail.
Here's what it looks like with the shock cord holding the tarp.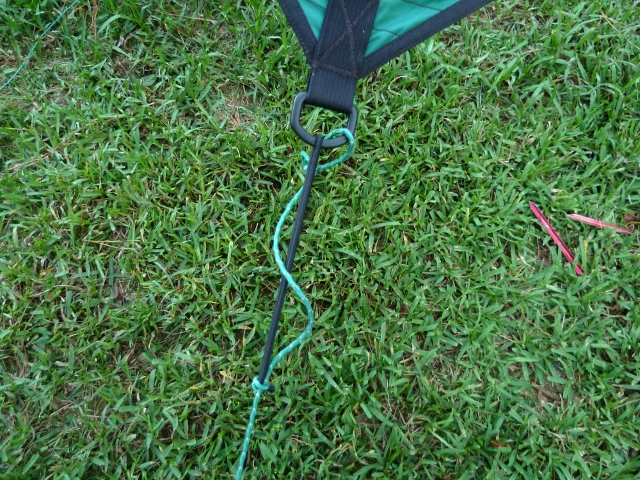 Here's what it looks like with the shock cord stretched to the length of the original guy line.

And finally, a profile shot.

I attached the guy line to the tarp tie-out with a bowline and used a clove hitch to connect the tarp tensioners to the guy line.
I'm headed out for real this Saturday and I'll report back on the success of the mods when I return.