This past weekend I pulled the trail crew together and we headed west to the Suwannee River for some more pre-season maintenance. We used the Bell Springs trailhead as our starting point for both days. Saturday was our long day as we covered the section to the Little Shoals trailhead at a distance of close to 4 miles. There were a number of trees down and I was glad to have my chainsaw with me. We put in a full day even though we had over a dozen people. Unfortunately our second mower decided not to work and we ended up making just a single pass like we did at Osceola. I'd planned to do an out and back but I was worn out by the time I reached the trailhead.
Several of us joined one of our volunteers at her cabin about an hour away. It's a pretty cool place along the Withlacoochee River and I scored the primo hammock spot on a ridge overlooking the water. The weather was clear and while it felt cold when you stepped away from the fire the evening temperature didn't really seem that bad. I think the lowest my thermometer went was 47° but it didn't feel like it. The stars were gorgeous! It's amazing how brilliant and abundant they are when you get away from the light pollution found in the city.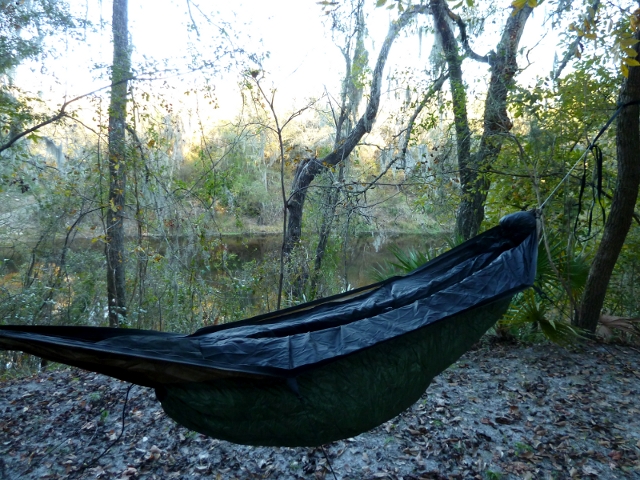 We had a wonderful dinner and everybody pitched in with both food and help. After dinner we had a great blueberry cobbler for dessert and then enjoyed an awesome fire for a few hours.
I used this as an opportunity to deploy my Toxaway tarp for the first time. I really like it. It provides a little extra coverage compared to my MacCat Deluxe and it might just become my everyday tarp. I slept very cozy with my top and under quilts. I was also very happy that the bugs weren't out and I was able to sleep without the netting.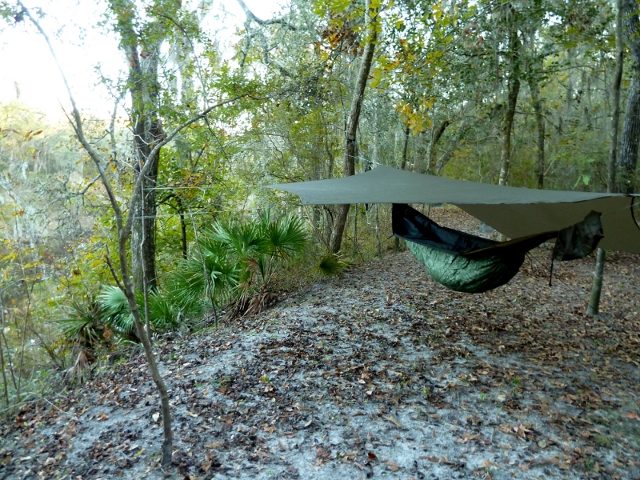 Unfortunately since we had a decent drive back to the trailhead and I wanted to be there early I was up before sunrise and didn't get to enjoy it from the hammock. Everything was packed away before that happened. I guess I'll have to go back. 🙂
On Sunday we did an out and back to Big Shoals. We could only mow so far because we couldn't take the mower across Robinson's Branch. The river is up in general which was good to see. You couldn't walk out to the middle like we did in the Spring. We had a slightly smaller group but still got a good bit of work done.
All in all it was another good weekend!