Day One
On Sunday, May 29 I drove from Jacksonville, Florida to the Deep Gap trailhead located 10 miles west of Franklin, NC at the intersection of US64 and USFS71. I didn't get to the trailhead until after 6pm and wasn't sure how much daylight I'd have. I entered the Southern Nantahala Forest and decided to just hike 1.5 miles to the first shelter at Standing Indian Gap. When I arrived there was a group of about a dozen youth and adults from First United Methodist of Melbourne, Florida.
I picked a spot about 100′ or so behind the shelter to give us some space. The adults were cool and the kids well-behaved. They turned in early and I followed suit.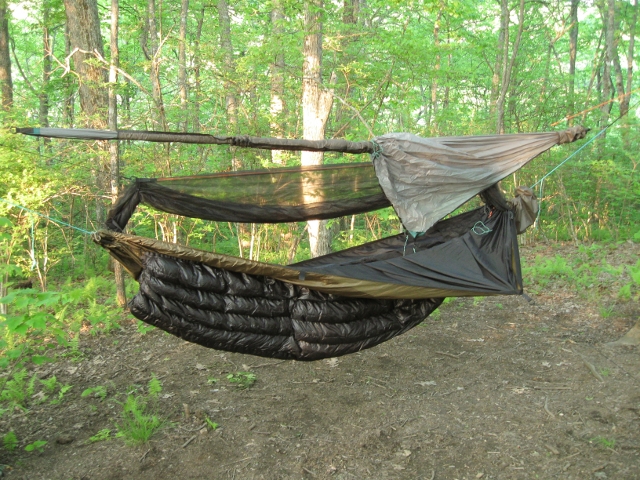 Day Two
I awoke about 7:30 and hit the trail about 9. I didn't have a big day ahead of me as I'd only planned 8.5 miles. My friend wanted to start slow. Of course he had a project come up and couldn't make it. I left Standing Indian headed towards Carter Gap Shelter.
The Trail was gorgeous and the mountain laurel and other plants were full of color. I only wish that I could've captured the various smells for you as well.
One thing that struck me early on in the hike is that I wasn't in Georgia anymore. What I mean is that in Georgia you hike your butt off to look at more trees. In North Carolina there was always a payoff. It may have been a small opening but you were always able to enjoy the beauty of the mountains surrounding you.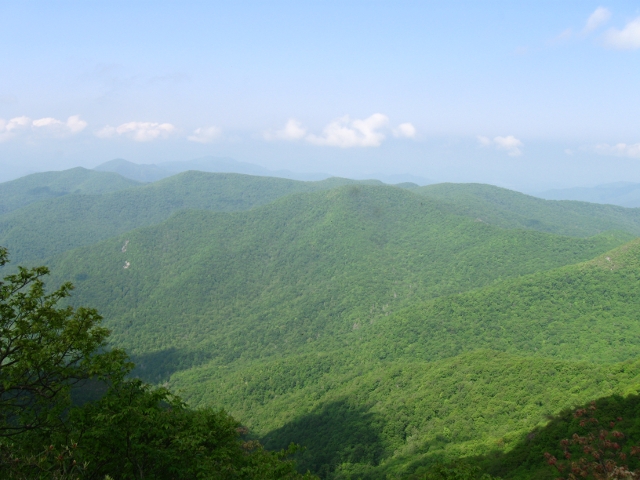 I was hiking with about 34 pounds in my Deuter ACT Lite pack and making very good time. Usually my calves start burning early on but today things were going very well. I felt strong until my left knee started giving me some issues. I stopped to put my brace on and kept going. I decided to rest at Beech Gap to give my knee a break. This is where my buddy and I spent two days waiting out the rain last year so I was familiar with it.
Along the hike I tried to keep my eyes open for the beauty of everything around me. I didn't want to spend my time staring at the Trail only to miss the little things.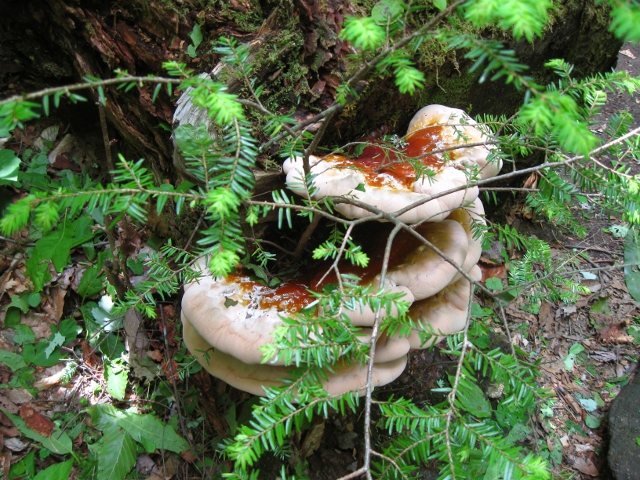 I made it to Carter Gap around 3pm and knew right away it wasn't going to be my stop for the day. There's no way I could stop after realizing it wasn't getting dark until almost 9:30. I'd just have gone stir crazy. The old and new shelters are vastly different in their stability and I wouldn't recommend the old. There is a very good stream right behind the old shelter, though, and it was a fine place to rehydrate.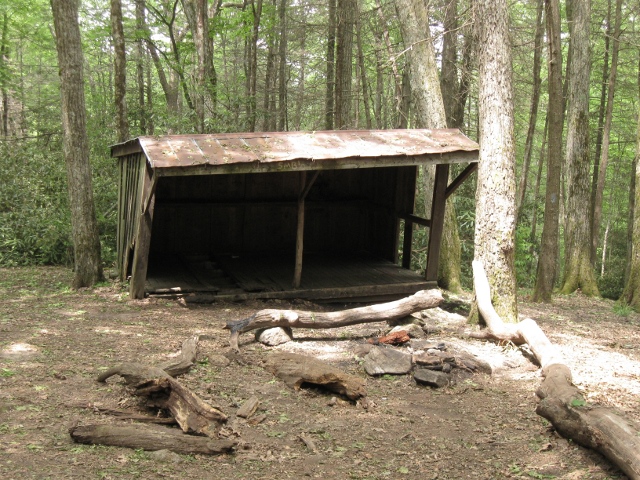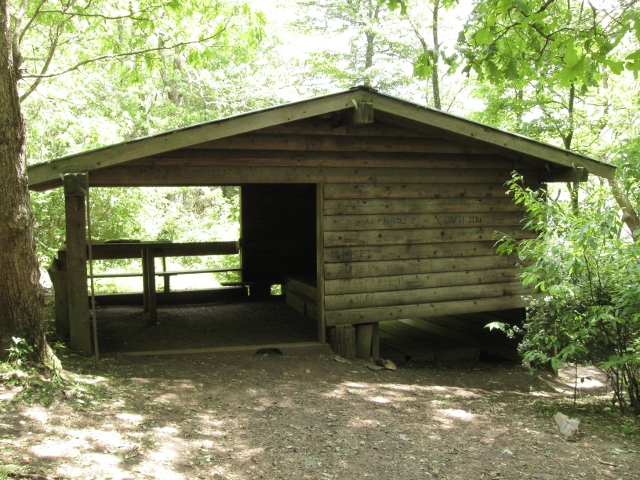 I looked at the map and trail guide and decided to do another 4 miles to Betty Creek Gap. I rolled in there about 7 and still wondered how I'd kill the next 12 hours at a minimum. I setup my DIY gravity filter which uses a Camelbak and Sawyer 3-way filter. I then took my time setting up my Tree to Trail Light Hiker Hammock, MacCat Deluxe tarp, and brand new Hammock Gear Summer Incubator underquilt and before I knew it I was ready for bed.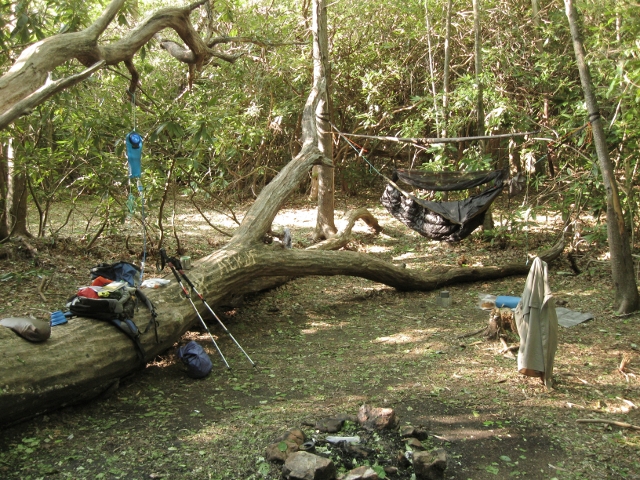 The biting gnats and black flies had been horrible the entire day. I didn't seem to be receiving a lot of bites but they annoyed the daylights out of me. I was greatly relieved when they died down around dark. I was surprised that there weren't many (if any) mosquitoes out and about. This would remain the case for the duration of the hike.
Day Three
I left Betty Creek Gap around 9 again this morning and hiked through Mooney and Bear Pen Gaps on my way to Albert Mountain. The elevation chart didn't look promising and I was happy to have gone further the day before. Logistically that gave me a big climb in the morning instead of at the end of the day.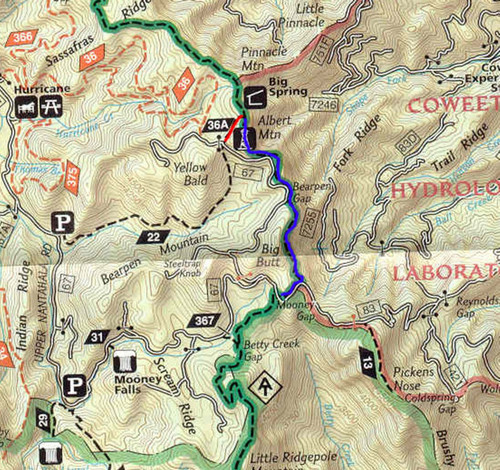 The climb up Albert from the south is very steep and rocky. However, it wasn't as bad as I'd expected and the pain was short-lived. On the summit is a tall tower used by the Coweeta Hyrdological Laboratory. The payoff was huge. The top of the tower is roughly 5260′ and provides you with a full 360 degree view of the area.
The view was so breathtaking that I couldn't pull myself away. While I was there a young couple of dayhikers appeared and we enjoyed it together. As they were leaving I was joined by a man and his grandson. They didn't climb the tower but we had a good talk. I spent 2 hours enjoying the view and still wanted to stay. Alas, it was time for lunch and I headed on to Big Spring Shelter.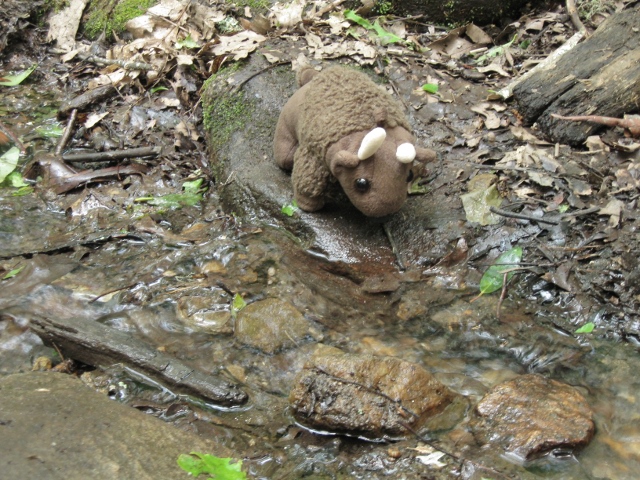 While I was wrapping up from lunch, Floyd rolled in. He thru-hiked before and was just taking a few weeks to put in some more miles. We had a nice talk and then it was time to move on. After a short break and a refill of the water bottles Buddy and I were back on the Trail. My knee pain had subsided though I kept the brace on. My Black Diamond Trail Shock poles were coming in very handy and I don't think I'll ever hike again without them.
I hiked on through Glassmine Gap until reaching the Rock Gap Shelter. At the shelter already was Troy, a HS math teacher from Arizona. We chatted for a while and then I headed to a campsite located about 150′ down the mountain. The trees right around the shelter weren't really conducive to hanging. This site was pretty much perfect. The spring was about 25′ from the shelter and ice cold!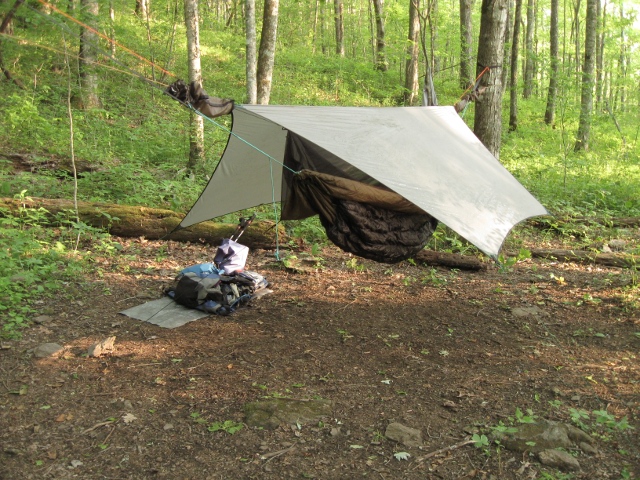 I'd spoken to my friend on the way to Rock Gap and he thought he'd be able to meet me the next day. We'd planned on meeting by 11:30 so I left a little early. I didn't seem able to sleep past 7 and found myself dragging the morning out. Time was something I had plenty of and I was still hiking strong.
Day Four
Water continued to be plentiful and I never had any concern with just my two Gatorade bottles. The hike to Winding Stair Gap was quick and easy and I arrived an hour early. I have to say that the spring at the bottom of the stairs is probably my favorite.
I called my friend to tell him not to eat since I'd planned on making him take me back into town. That's when he confirmed he wasn't going to be able to make it at all. After pondering what to do I realized it was futile. I'd already talked myself into real food. I was a lost cause.
I moved my pack to the small median separating the parking lot from the highway and put my thumb out. About 15 minutes later John picked me up and took me into town. He dropped me off at the K-Mart and I went inside to gorge on Little Caesar's Pizza.
While enjoying my large, $5 pepperoni pizza I talked with Skip and his wife. They told me about their antique autos (she drives a '58 convertible) and we had a wonderful time. After they left another patron and I talked about his trips on the AT and he gave me a heads up of what to expect. After 1 I decided I'd spent enough time chilling and that I needed to head back.
I passed the Ingle's grocery and decided to pick up some oranges and a puzzle book to occupy my time since I was ending up with so much daylight left to kill. As I hit US64 again it was super hot. I picked the only place of shade and watched miserably as car after car passed me. Just as I was questioning my decision to come into town a little red car that had passed me earlier stopped. It was David W. from the Nantahala Hiking Club. He'd seen my pack as he passed and turned around.
David and I had a nice talk on the way back to the Trail. He was a retired NASA scientist and a fellow amateur radio operator. He hadn't really been going to Winding Stair as he said. He dropped me off and went right back to town. Many thanks, David. I was back on the Trail again at 2pm.
Wed was supposed to be a really short day to allow for re-supply anyway (7.5 miles) but we'd decided to carry everything for the full week. Even starting so late again in the day I figured I wouldn't stop at Siler Bald Shelter as planned. I made my way up the Trail and over to the Bald. It really is a beautiful meadow but it was the first of many encounters with poison ivy.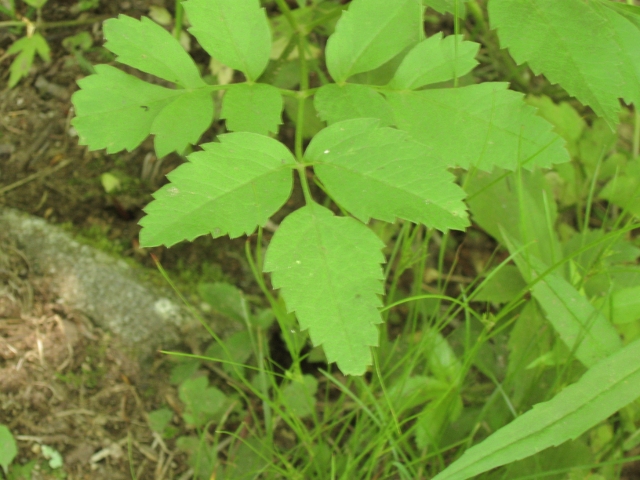 For the first time in the trip I hit a poor water source. The spring at USFS69 seemed to be little more than mud. The climb up to Wayah Bald was tough since it was late in the day, hot, and I was getting tired. I also had daylight working against me.
By the time I reached the tower at Wayah Bald I was starting to get worried about having enough daylight to make the next shelter. Unfortunately I had little time to enjoy the tower or the view.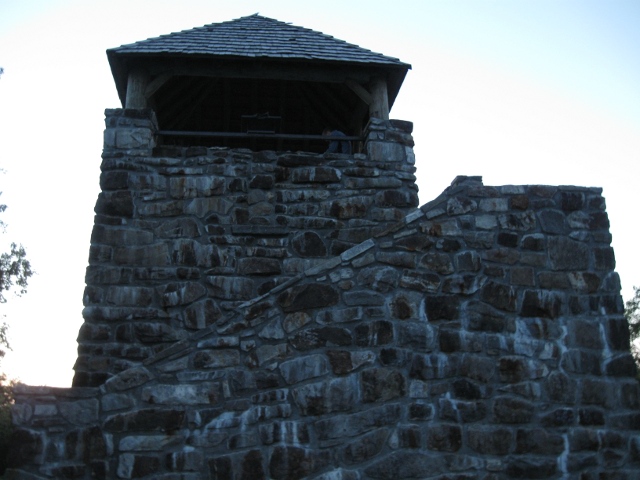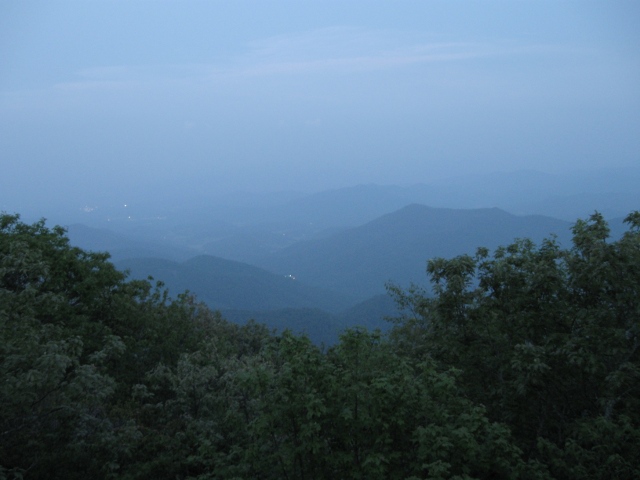 I lost the battle with daylight and found myself putting the headlamp on. This was my biggest push of the hike and by the time I made it to Wayah Bald Shelter it was 9:30. I was beat. I was thirsty. I was happy that I'd done a 16-mile day.
I decided that even though I was thirsty I didn't want to wander through the forest trying to follow the blazes to the spring. I had enough water until morning and made due. I got the hammock setup and had the shelter to myself. It seemed unusually warm at that late hour and I wondered if I'd stop sweating enough to get to sleep. As much as I'd expected to crash hard I was up until 1am.
Day Five
Morning came early once again and I headed off to find the spring. I decided it was a good idea I'd waited for daylight. I decided to enjoy the songs the birds were singing and kicked back with a cup of coffee. It was my first for the week.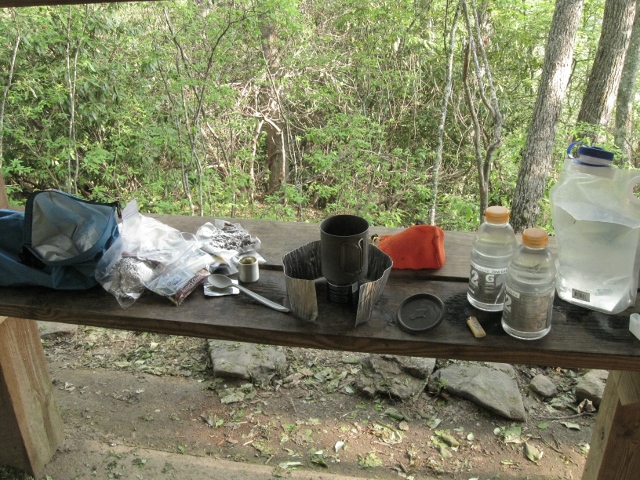 Throughout the trip I used both the Gram Weenie Pro and Venom Super Stove. I really like the GWP but the Venom is much more stable and will probably be my go-to alcohol stove for now. This was also my very first time without a filter. I treated my water with Aqua Mira and saved 13 ounces by leaving the Hiker Pro at home. In all honesty I didn't treat everything. If I was on the move and was getting water from a piped spring I didn't treat it. I only treated from a running stream or a spring box.
The original plan called for a 12-mile day followed by a final 11.5-mile day and I really didn't want a long day at the end of the week. Hiking solo, though, I now had the flexibility to make big adjustments and the 16-day push set me up perfectly with just 10 miles scheduled today and a final 6-mile day. With my eyes set on another easy day I was in no hurry and left the shelter close to 11.
I made my way through Licklog and Burningtown Gaps to Cold Spring Shelter where I ran into the group of hikers that I'd passed at Wayah Bald last night. They were just a bunch of guys that had run into each other and decided to stick together. They also had Joshua the Rottie.
Apparently there's a timber rattler that lives near the shelter but I never saw him. I fixed some mashed potatoes for lunch and dried off while I ate. The heat was intense and my clothes were soaked.
The foliage after Wayah was considerably different. It was much more grassy and the poison ivy was everywhere. I was grateful to be hiking in pants and felt sorry for those in shorts. They may have been cooler but I hope they somehow also managed to avoid a rash.
Descending into Tellico Gap was a bit jarring on the knees. Downhill routes are something you tend to look forward to more than a steep climb but after a couple of miles it can really wear on the joints. I ran into the guys again at Tellico and spent about 30 minutes relaxing. A group of USC seniors came bebopping down the trail from Wesser like it was no big deal. Of course they had youth and no packs working in their favor.
Wanting to sit on top of a mountain instead of at the bottom I donned the pack once again and headed up. The elevation chart showed a near-vertical ascent but I was relieved that it only lasted about 30-45 minutes. After the initial climb the rest of the mileage was primarily ridge walking making for a gradual incline. Even so, I was tired when I finally reached the tower on Wesser Bald. As I've mentioned already, though, the payoff was big.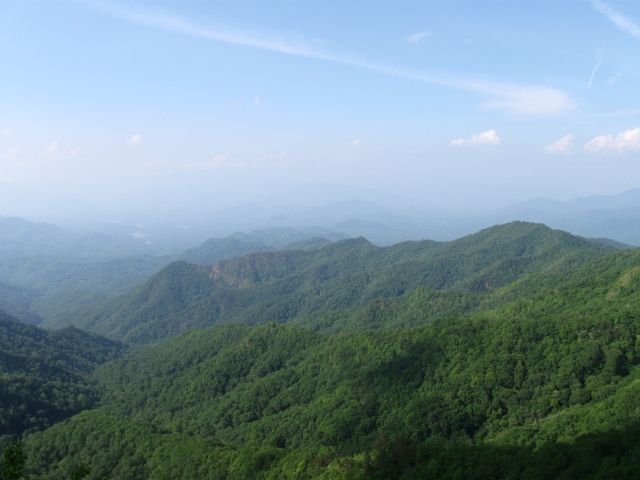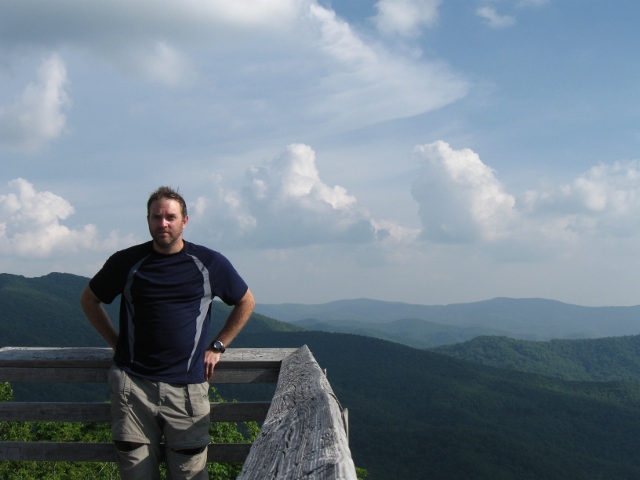 After spending a couple of hours atop the Wesser tower I decided to make my way to the shelter. I had just about 1.5 miles left in the day. It was an easy trip and when I arrived I met Dodger. Dodger's thru-hiked the AT three times and is considering a fourth in honor of his 65th birthday next year.
There is a large campsite above the shelter and like Rock Gap the trees were much better up there so that's where I staked my claim. Until a young couple from Indiana arrived Dodger and I had the shelter to ourselves.
We spent quite a bit of time talking about the Trail this evening. The couple was attempting the thru-hike and Dodger was happy to share his experiences. We finally turned in when my Orbit lantern died.
Around 3am I was awakened by headlamps hitting my hammock. It seems a couple likes to hike at night to avoid the daytime heat. Of course they chose to set their tent 30′ from me and took an hour to settle in. Then the snoring started.
Day Six
I awoke once again around 7:30 and lay in the hammock enjoying the view from my room.
I broke everything down first thing after rolling out of the hammock and headed down to the shelter to find Dodger gone and the first couple still in their bags. I had a quick, cold breakfast and offered them the last of my water so I'd have less to carry. With everything packed I headed out on the final leg of my journey.
Contrary to the elevation chart, today wasn't simply a level walk with a sharp descent. I recall at least three ascents to get the heart pumping early in the morning. I cursed the elevation chart. Alas, like most of these climbs it wasn't as bad in hindsight and once again you were rewarded with gorgeous views.
I finally began my descent towards the Nantahala Outdoor Center and eventually ran into a large campsite area with a wonderfully cold spring. There was a small family of dayhikers that I chatted with briefly before refilling my bottles. When I turned around they were gone and heading up the Trail.
Originally they'd told me I was about 45 minutes from NOC. As I caught up to them and passed they said I might make it in 30. I laughed and said, "I have a date with a burger and I plan on making it in 15." It turns out I made it in 10.
I wasn't late for my date at the River's End Restaurant. The wait staff was superb but the food was better. Round 1 was buffalo wings that were absolutely delicious and Nantahala pale ale.
Unfortunately they didn't last long.
Round 2 was the Tail of the Dragon burger. Imagine a 1/2 pound burger with pepper jack cheese, jalapenos, and a chili-garlic ranch sauce! My mouth was watering awaiting its arrival. When it was finally delivered it was every man and beast for himself.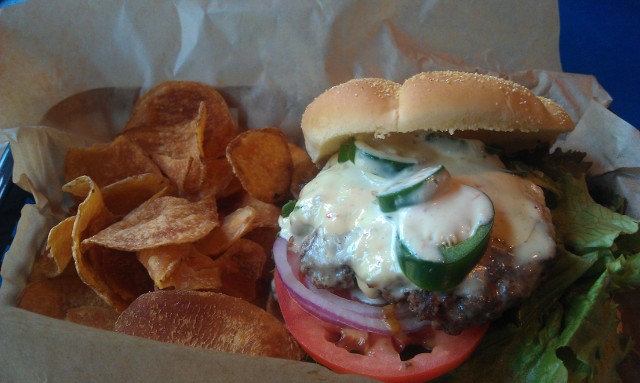 With all forces fully engaged in the battle the Dragon didn't stand a chance.
I paid my bill and waddled back outside to my gear. I dragged it down behind the NOC to check out the absolutely gorgeous Nantahala River. Numerous mallards were enjoying the water as were kayakers and rafters. It was truly a beautiful ending to a wonderful hike.
I soaked my feet (the water was freezing) and waited for my ride.
Around 2:30 my ride, a great guy from whiteblaze.net, arrived. He was starting the same hike today and was using the NOC as a re-supply in case he went on to Fontana. Once again the planets were in alignment. We had a great ride back to Deep Gap and I shared water, bug, and other conditions. I truly can't thank him enough for his generosity.
And that is the story of my week. I hope you've enjoyed it and have the itch now to go out and experience it for yourself. I'm still working on the slideshow. I've whittled it down from 300+ images but it's still about 16 min. 🙂